Houston! It's the fourth largest city in the US and home to over 6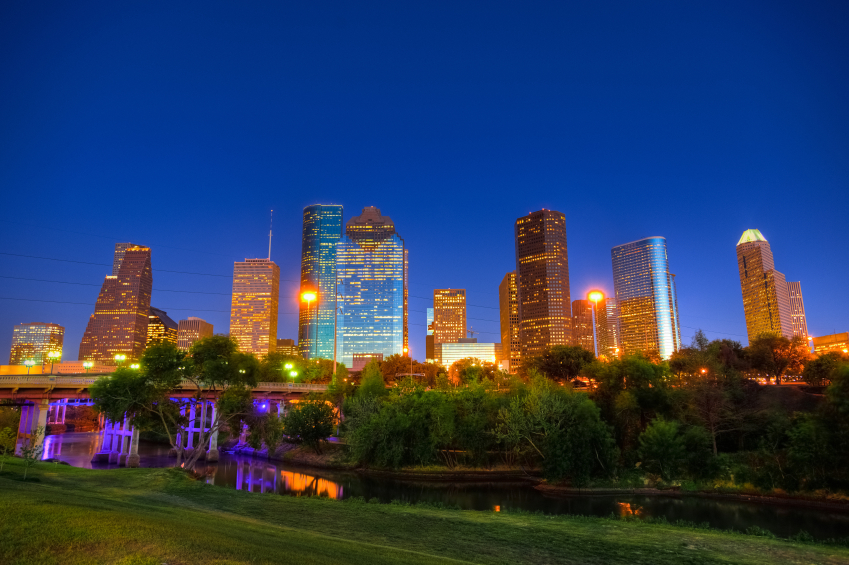 million people. It's a multicultural, cosmopolitan city abound with great restaurants, a bustling nightlife, major sports teams, a world renowned medical center and a fabulous sense of culture with museums, entertainment events, historical areas and more! Situated 45 minutes from the Gulf Coast, Houston has a nearby beach, Galveston, and enjoys the many advantages of being one of the nation's port cities.
Houston is considered to have one of the best culinary scenes in the country, with over 10,000 restaurants representing more than 70 countries. H-Town (as the locals say) also has more than 500 institutions devoted to the performing and visual arts, science and history. It is one of only a few U.S. cities with resident professional companies in the four disciplines of the performing arts: ballet, opera, symphony and theater. You will never be bored in this city!
Greater Houston is now the most ethnically diverse metro region in America. In Houston, over 90 languages are spoken and it has among the youngest populations in the country. In fact, Houston consistently ranks highly for attracting Millennial talent - that's Gen Y - those who are between 20-35 years of age.Millennials are drawn to Houston not only because it holds the No. 1 spot of Forbes' Coolest Cities list, but Houstonians enjoy a lot of bang for your buck when it comes to the standard of living. Reasonable rent, strong income levels, a growing economy and lots to do make our urban and chic city a top destination for talent. Houston also leads the nation in job creation and is home to 26 Fortune 500 companies. Come experience southern hospitality at its finest!
Fun Facts About Houston From the Greater Houston Partnership
6.7 Million residents in the nine counties of Houston.
Houston is the nation's fifth-largest office market.
24 Fortune 500 Companies call Houston home.
3 million jobs in Houston - more than 35 states.
15 foreign governments maintain trade and commercial offices in Houston.
Nearly 1 in 4 Houstonians are foreign born.
1,000 Houston firms report foreign ownership.
Houston has the largest export market in the U.S.
90+ nations have consular representation in Houston - 3rd largest representation in the nation.
19 foreign banks are located in Houston from 9 nations.
The Texas Medical Center is the world's largest medical complex.
$3 Billion in construction projects underway.
Houston is home to 87,500 engineers and architects, more than any other U.S. metro area.
Approximately 220,000 people work in the region's manufacturing industry.
39 of the 137 publicly-traded oil and gas exploration firms are housed in Houston. If Houston were an independent nation, the region would have the 23rd largest economy in the world, behind Taiwan and ahead of Nigeria.
Why We LOVE Houston
H-town is where I grew up so it will forever be "my town" with its humid summers, mild winters and its shortest but sweetest seasons of all - spring and autumn. What, we have those two seasons!? Houstonians speak my language - optimistic, innovative, energetic, hospitable, prosperous and gritty. Go Coogs, Texans, Rockets and 'Stros...Houston is #1.
- Allan Dulany, Audit Partner, Moved from the Philippines
The cost of living in Houston is lower than other big cities. It is a great place for young people to work and save money at the same time.
- Hazel Jin, Experienced Staff, Moved from Boston
I love living in Houston because of the diversity of culture found here in all of the different neighborhoods.
- Caroline Rosen, Marketing & Communications Manager, Native Houstonian
More about Houston
52 Places to Go in 2019 - New York Times
West Coast developer: 'Houston is just too big to ignore' - Houston Business Journal, March 14, 2017
Anthony Bourdain (CNN's Parts Unknown) on Houston: "It's a wonderland of strange and diverse."
Success and the City, Wall Street Journal, July 14, 2014
Houston Ratings and Rankings, Greater Houston Partnership
Houston Ranked a Top-25 City for Millenials, Houston Business Journal, April 18, 2014
Houston's Midtown Amoung Best Places in Country for Millenials, Houston Chronicle, April 16, 2014
The Best Cities for Jobs 2014, Forbes, April 28, 2014
Houston Tops Our List of America's Coolest Cities, Forbes, July 26, 2012